This gorgeous Moana birthday invitation is the latest in our design board. It's a great choice for party invitation for a Moana themed Birthday or Baby shower party. You can match and serve with other details at your party, such as Moana Tropical themed birthday cake, Moana cookies and cupcakes, and don't forget to also add Moana cupcake toppers.
Please have a look at this cute Moana invitation cards,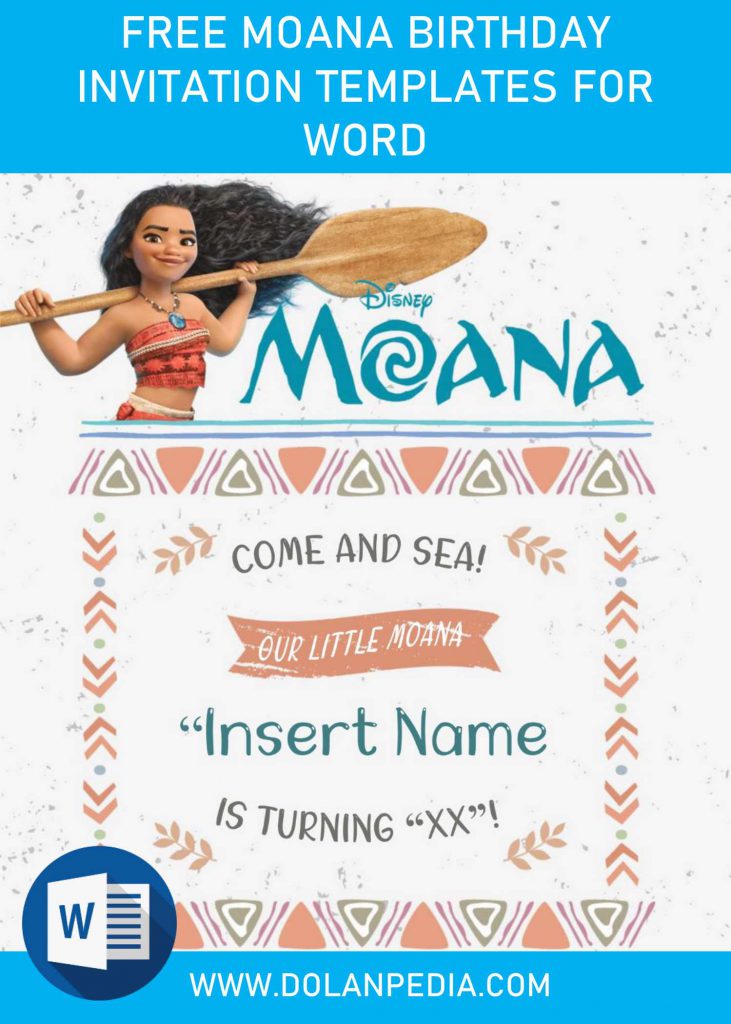 As we can see, with cool tribal pattern, cute font-styles and Moana illustrations for your little boy or girl's birthday party, I think they will be so proud of you. You kid will be very happy to hand the invitations to their classmates.
Let's talk a bit deeper, regarding what's in today's design. Actually, I've done this particular design two days ago, I started drawing the border, which features tribal pattern, it's inspired by Aztec stencils and I thought it still relevant to be used in today's design. I chose matching-matching colors, and on the top section of the border, you are going to see Moana, Maui and others.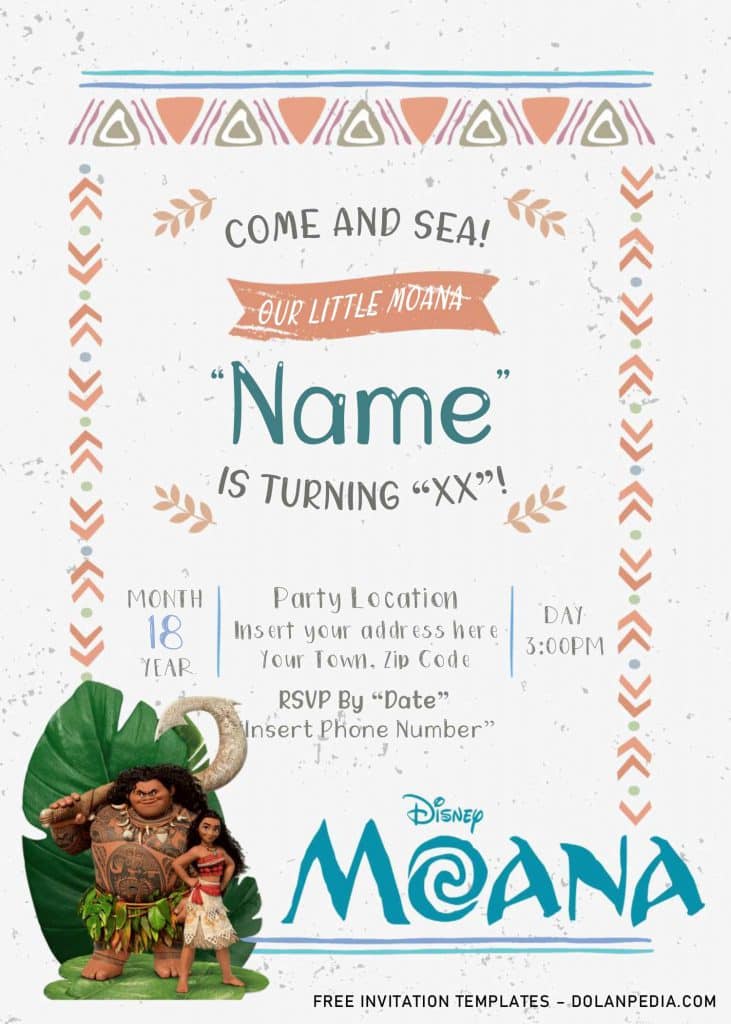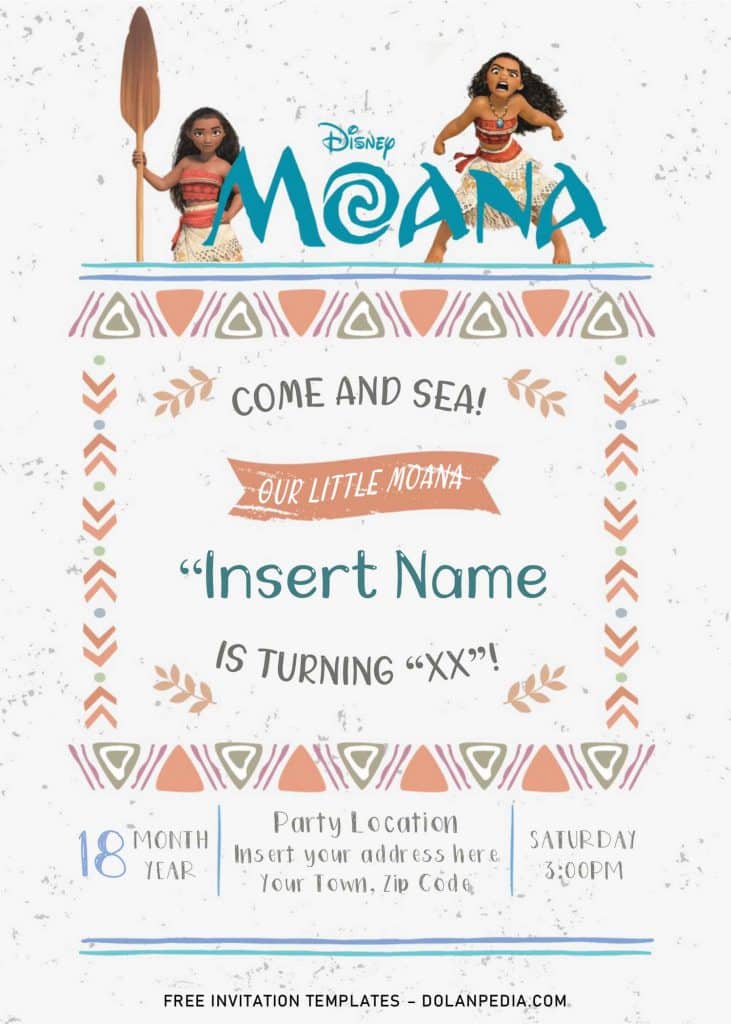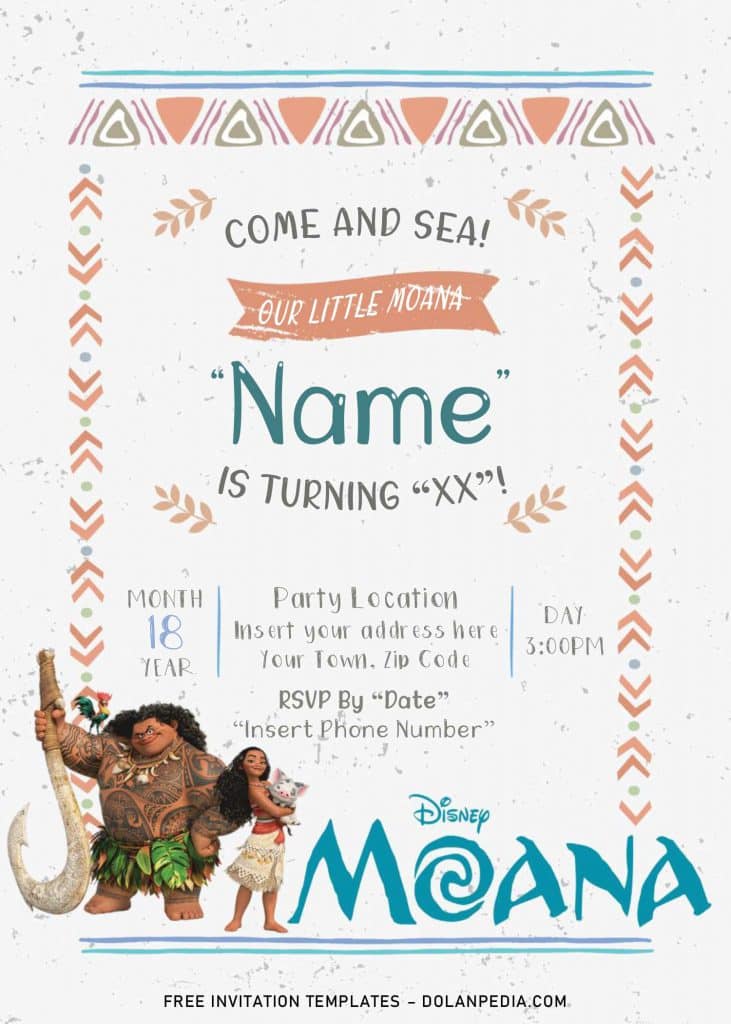 DOWNLOAD MOANA BIRTHDAY TEMPLATES HERE
"Come and Sea! Our little Moana is turning "xx"!", these phrase it does sounds cute and great to be remembered easily by your guests. By the way, all the sample text that is written in this template are editable, you can use Microsoft Word for that. Why do I need Ms. Word? It's all because our template comes in Docx file, so it's editable only with Microsoft Word 2007 or later.
Here are a few things you need to do
Download the file
The download button to get access to our storage is placed above.
Left click your mouse button on that, and in seconds, you will see download page from Google Drive.
Click Download and tap Enter to start the download process.
Important
Before you're going to customize or edit our template, you'll need to extract the file, using an app like Winrar/7zip. Then don't forget to install all the required fonts inside the "Fonts" folder. If you have followed all of those instructions, now you can enter the cool "editing session", by opening it using Microsoft word. Last but not least, pick either Card-stock or Cotton paper as your printing paper.